ITU Mini
The Harvest ITU Mini is a low power solar data logger with a built in cell phone modem and a range of inputs for various hardwired monitoring options.
The Mini uses the same stainless steel case, solar panel and battery as the ITU G2 but does not have relay outputs or UHF radio for remotes. It has four analog and four digital inputs (compared to the ITU G2 which has eight). It is a great option for smaller sites that don't require a full ITU G2 system.
All data is visible via the Harvest live data portal.
Key Features
Harvest designed logger with integrated modem (cellular or satellite)
Range of input types for varying sensor and output types
Global SIM card and dual band Harvest cellular antenna for automatic network switching
Durable stainless steel weather proof enclosure
Solar or mains powered with backup battery
SD Card for huge backup log storage
Technical Specifications
Built in solar regulator for 18V panels, able to be mains powered
Four analog inputs with ranges of 2V, 10V, 40V, or 4-20mA

Four digital inputs with counting capability

SDI-12 port
Two software configurable excitation outputs; one with boosted voltage
Dallas 1-wire bus inputs for Harvest temp, humidity and barometric pressure sensors
Dedicated input for mechanical wind sensors
Support for multiple cellular and satellite modem modules with built-in GPS
Remote configuration of logging and reporting intervals and input settings

We design and build these products so please talk to us if you need a custom solution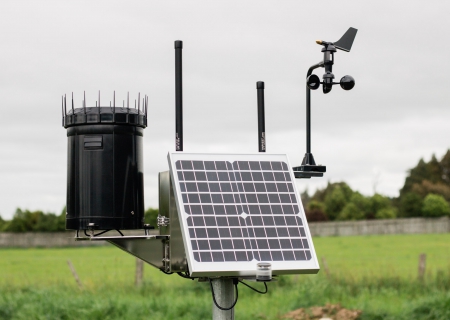 ---