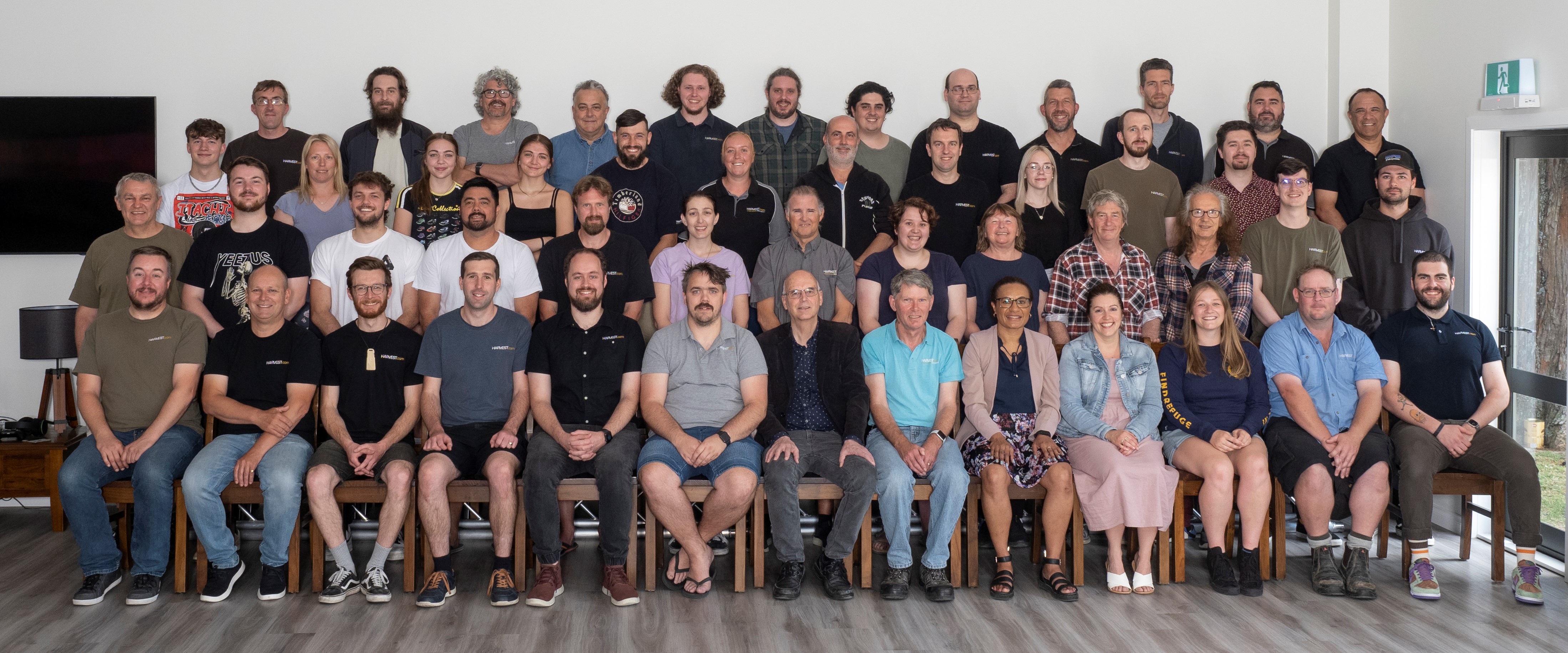 About Us
Harvest Electronics is located in the semi-rural town of Masterton, New Zealand.
From 1990 until 2000, Harvest Electronics developed products for the wireless monitoring of Coca-Cola vending machines. The system grew to be the largest monitored network of its type in the world with 60,000 vending machines online. In March 2000 the online vending division of Harvest Electronics was sold to Marconi and then to Coca-Cola Amatil (trading as VMSL) early in 2003. In April 2000 Peter Munn relocated Harvest Electronics to Pragnell Street, Masterton and the focus was turned to GPRS telemetry solutions.
By 2003 multiple new projects had taken off, staff numbers were rising and the 270 square metre office premises had run out of room. Over the next few years two extensions were added the production and office facility. Early 2004 saw the launch of one of the flagship Harvest products - the frost alarm - which later led to development on the ITU G2 which has become the backbone of most monitoring and control solutions. 2010 saw the launch of the Long Range Remote (LRR). Originally designed to allow monitoring of temperature sensors on large orchards and vineyards this product quickly took off. The Long Range Remote is now widely used in vineyards, orchards, farms and industrial applications.
By 2013 Harvest were involved in the supply of telemetry to multiple market segments. Harvest now manufacture all their own circuit boards thanks to the purchase of three Philips SMD machines.
2020 saw the 30th anniversary of Harvest Electronics. The future continues to look bright with many new projects in the pipeline to further expand the Harvest telemetry monitoring and control portfolio.


History
Harvest had its beginnings in Peter's garage in 1990. Peter called the company Harvest in recognition of his strong Christian belief that you reap what you sow. This principle continues to guide the business honesty and integrity which we strive to maintain. For the first couple of years our development efforts focused on an alarm dialler that exploited the low cost and distance independent charging of the dial up X.25 network. In 1992 we successfully adapted this technology to monitor Coca-Cola vending machines.
Also in 1992, with the garage getting increasingly crowded we moved out of Peter's garage into new premises on Norfolk Road. This site gave us plenty of room to expand and our building increased greatly in size over the following years.
In 1995 we started using analog (AMPS) cell phones to address the problem of vending machines that were too hard to get telephone lines too. We soon realized that the higher unit cost of cellular units was offset by lower installation and maintenance costs. Before long we had switched production entirely to cellular units.
In 1999 with the imminent shutdown of the AMPS network in Australia and the falling price of GSM phones we started production of GSM based units.
In March 2000 the vending part of Harvest Electronics was sold to Marconi PLC and began trading as Marconi Online. By this stage we were monitoring 60,000 vending machines in New Zealand, Australia and the United States. In April 2003 Marconi Online was sold to Coca-Cola Amatil and now trades as Vending Management Services Ltd (VMSL).
Harvest continues to design and develop telemetry products for a variety of markets.
Some of our press, including this from the Wairarapa Times-Age:
"How smart can you get running vending machines in the United States, day by day, from Masterton."

- Jenny Shipley, New Zealand Prime Minister, Aug 17, 1999
Bill Gates, in his book Business @ the Speed of Thought, used the Harvest product as an example of rule #2 (Study Sales Data Online to Share Insights Easily)
"Making data digital from the start can trigger a whole range of positive events. The Coca-Cola Co. is collecting data directly from smart vending machines via cellular phones or infrared signals. A PC-based restocking program at the local bottler office analyzes the data and produces a delivery slip that tells drivers which products and locations need to get stocked the next day."
Photos
Manufacturing Team
Support Team
Software Team
R&D Engineers
Printed Circuit Surface Mount production line
Repairs