Harvest Farm and Irrigation Monitoring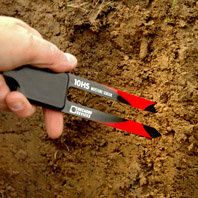 The Harvest irrigation monitoring systems are totally customisable. It is our aim to find the right solution to meet both council consent requirments while still providing the best possible information for farm management.
The Harvest G2 Monitoring Systems wireless capabilities make it perfect for most large farms. The wireless Long Range Remotes (LRR's) are able to monitor multiple irrigation areas from one system. In most situations the Long Range Remotes do not require expensive towers or radio repeaters like many other systems on the market. The wireless remotes are compact, solar powered and weather resistant for long term reliability. For sites that are hilly, have multiple terraces or exceed the range of the Long Range Remote - repeaters (ITU G2 Remotes) can be installed to extend the range.
Key Monitoring Variables
Weather
Air temperature, wind speed/direction, rainfall, humidity and barometric pressure
Soil Moisture and Temperature
Several types of soil moisture probes/sensors available including Decagon and Aquaflex
Flow Meters/Water Meters
Instantaneous flow rate readings along with accumulation calculations. Automated transfer to councils for consent monitoring/reporting.
Evapotranspiration Calculations
Weather sensors combined with solar radiation gives ability to calculate ET (also known as PET)
Pump Status and Pressure
monitoring of pump fault and power status
Stream and Open Channel
Stream and open channel monitoring via use of weirs
Effluent Irrigator Tracking and Control
GPS tracking of both pod and travelling effluent irrigators, effluent volume and automatic effluent pump start/stop
Well and Pond Depth
Monitoring of well/bore/pond/reservoir depth using submersible pressure sensor or ultrasonic sensor mounted on arm
Download our current brochure or system diagram.
Please Note:
If you already have an existing Harvest System on your Vineyard or Orchard then monitoring for consent purposes maybe little or no extra cost. All data collected can be forwarded on to third parties (eg. farm management hubs).
Please contact us for more information on options availabe and pricing.