Harvest Automated Weather Station (AWS)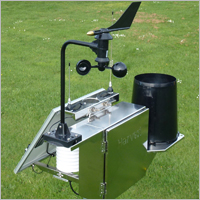 The Harvest Automatic Weather Station (AWS) is a versatile weather monitoring package. The system is able to operate on nearly any cellular network anywhere in the world with Irridium satellite options available. The system has options to monitor multiple weather sensors as well as options for use as a frost alarm, irrigation monitor, soil moisture monitor, and much more.
Features
Remote Operation The system is housed in a tough lockable stainless steel case with military style water protection. Power is supplied via a 10W solar panel charging a 12V 7.2Ah gel cell. The systems come fully assembled and are desgned to be simply and quickly mounted on top of a length of 2" galvanised pipe (60mm outside diameter). The system operates on most GSM GPRS/3G networks anywhere in the world.
Online Data. All weather data is reported back to the Harvest website. The data is then available for viewing via the internet as graphs or the raw data can be downloaded in CSV format. All data is backed up and archived indefinitely.
Custom Reporting. Custom reporting intervals can also be arranged and alarms can be automatically sent by text (SMS), voice and email when certain conditions are met, eg. high rain intensity, high wind, low or high temperature. The System can also double as a monitor for other sensors such as pressure transducers, float switches, ultrasonic level sensors and flow meters.
Sensors. By default all weather stations are equipped with temperature, humidity, wind speed/direction and rain sensors. The stations are also fully compatible with all sensors available for use with our frost alarms.
For more details on the capabilities of the system or for formal quotes please contact us.