Harvest Industrial Weather Station - Vaisala WXT520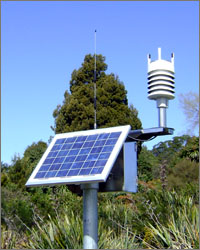 Harvest has introduced the Vaisala WXT520 all in one unit as an option for industrial weather monitoring. The WXT520 is generally accepted worldwide as a good compromise for an easy to setup, reliable and easy to maintain industrial weather station. Most are positioned at a height of 2.5m off the ground. The wind speed measurement can be adjusted to 10m height readings if required by using NASA calculations. The rain measured at 2.5m is also an acceptable compromise and overcomes the need to mow the grass at a traditional weather station.
The Vaisala WXT520, when combined with a Harvest system, provides reliable, accurate and cost effective industrial grade weather monitoring. For sites where it is absolutely critical to have wind monitored at a 10m height then the WXT520 can be used in conjunction with the WMT52 which is the Vaisala ultrasonic wind sensor as used in the all in one WXT520, details and picture can be found below.
The WXT520 provides measurements for barometric pressure, humidity, precipitation, temperature, and wind speed and direction. To measure wind speed and direction, the WXT520 has the Vaisala WINDCAP sensor that uses ultrasound to determine horizontal wind speed and direction. The array of three equally spaced transducers on a horizontal plane is a Vaisala specific design. Barometric pressure, temperature, and humidity measurements are combined in the PTU module using capacitive measurement for each parameter. It is easy to change the module without any contact with the sensors.
WXT520 Specifications
Wind Speed
Measurement range: 0 - 60 m/s
Accuracy:
0 - 35 m/s - ±0.3 m/s or ±3%, whichever is greater
36 - 60 m/s - ±5%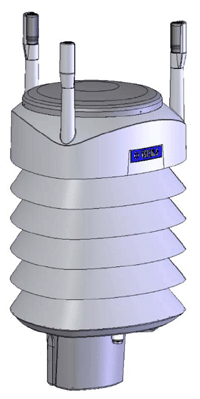 Wind Direction
Measurement range: 0 - 360°
Accuracy: ±3°
Response time: 250 ms

Rainfall
(cumulative accumulation after latest automatic or manual reset)
Output resolution: 0.01 mm, 0.001 inches
Accuracy: 5%

Rainfall Duration
(counting each ten-second increment when droplet detected)
Output resolution: 10 s

Rain Intensity
(one-minute running average in ten-second steps)
Range: 0 … 200 mm/h (broader range with reduced accuracy)
Output resolution: 0.1 mm/h, 0.01 inches/h

Barometric Pressure
Measurement range: 600 ... 1100 hPa
Accuracy:
±0.5 hPa at 0 - 30 °C (+32 - +86 °F)
±1 hPa at -52 - +60 °C (-60 - +140 °F)

Air Temperature
Measurement range: -52 - +60 °C (-60 - +140 °F)
Accuracy at +20 °C (+68 °F): ±0.3 °C (±0.5 °F)

Relative Humidity
Measurement range: 0 - 100 %RH
Accuracy:
±3 %RH within 0 - 90 %RH
±5 %RH within 90 - 100 %RH

General
Operating temperature: -52 - +60 °C (-60 - +140 °F)
Storage temperature: -60 - +70 °C (-76 - +158 °F)
Input voltage: 5 - 32 VDC
Typical power consumption: 3mA at 12 VDC (with defaults)
Heating voltage: 5 - 32 VDC (or AC, max. 30 VRMS)
Serial data interface: SDI-12, RS232, RS485, RS422, USB adapter
Housing: IP65
Housing with mounting kit: IP66
Electromagnetic compatibility: complies with EMC standard EN61326-1; Industrial Environment
IEC standards: IEC 60945/61000-4-2 … 61000-4-6

WMT52 Specifications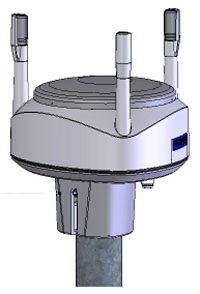 Wind Speed
Range: 0 - 60 m/s
Response time: 250 ms
Available variables: average, minimum, maximum
Accuracy:
(range 0 - 35 m/s) ± 0.3 m/s or 3%, whichever is greater
(range 35 - 60 m/s) ±5 %
Output resolution: 0.1 m/s, 0.1 km/h, 0.1 mph, 0.1 knots

Wind Direction
Azimuth: 0 - 360°
Response time: 250 ms
Available variables: average, minimum, maximum
Accuracy: ±3°
Output resolution :1°

Measurement Frame
Averaging time: 1 - 3600 s (=60 min), at one-second steps on the basis of samples taken at 4 Hz rate
Update interval: (configurable)
1 - 3600 s (=60 min), at one-second steps

General
Serial data interface: SD-12, RS232, RS485, RS422, USB adapter
Operating temperature: -52 - +60 °C (-60 - +140 °F)
Storage temperature: -60 - +70 °C (-76 - +158 °F)
Dimensions
Height: 139 mm (5.47")
Diameter: 114 mm (4.49")
Weight: 510 g (1.12 lb)
Housing: IP65
Housing with mounting kit: IP66
Electromagnetic compatibility: complies with EMC standard EN61326-1, Industrial Environment
IEC standards: IEC 60945 paragraph 8 - vibration, IEC 60945/61000-4-2…61000-4-6

Power Supply
Input voltage: 5 - 32 VDC
Typical power consumption on average: 3 mA at 12 VDC (default measuring intervals)