Radio and DTMF Remote Controller
Connects to an external radio or uses optional plug in GSM module to read eight inputs and control eight outputs at a remote site with full voice response.
Available in three versions:
Professional GSM version with both radio and GSM options fitted
Professional radio version with radio control only NZ$500
Amateur radio kitset version with radio control only.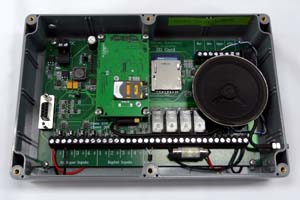 Specifications
Voice status of inputs and outputs
Voice dictionary stored on standard SD card
Simple process to add or replace words in any language
Password protected operation, two levels, read status only and read/change status
Four Analog inputs, 2.5V and 25V input range jumper selectable
Four Digital inputs, internal pull-up resistor, ground to activate
Dallas One-Wire interface for temperature measurement
Four normally open relay outputs, can switch up to 3A loads
Four FET outputs to switch up to 500mA at 12V
Variable voltage output (DAC), can supply up to 1A depending on selected voltage
Holtek HT9170 DTMF decoder
Texas Instruments MSP430 microprocessor
Audio and PTT interface for radio connection - isolated
Optional GSM cellphone module
6-18V DC supply
The configuration of the controller can be done relatively easily by the end user with a PC. If you prefer to have Harvest Electronics program the unit for your application we will do that for US$50 and email you the finished file usually within 24 hours. Email info2@harvest.com for this service.
Support
The professional versions come with full telephone help desk and email support and 12 month warranty. Email info2@harvest.com for support or call Harvest Electronics (+64) 6 370 1991 during New Zealand business hours. The Ham kitset version has no warranty and is supported only by email from one of the hams at Harvest Electronics. Email info2@harvest.com, no telephone support available for the kitset version.
The manual is available in our support area
The C source code for the GNU TI MSP430 compiler is available on request for those who would like to add extra features. Any additional features added by users will be evaluated and included in future releases. All users (professional and ham radio) agree that the intellectual property in this product belongs to Harvest Electronics and you also agree to have lightning strike you if you steal the intellectual property for commercial use!
History
The Harvest DTMF controller was originally conceived as a fun Ham radio project but the huge effort involved meant that we would probably never have had the time to complete it after hours. So we have combined the radio and GSM cell phone features into a product which we have developed during work time. We are probably kidding ourselves but we like to think it might have some commercial applications to justify the time and money spent developing it.
Peter Munn ZL2LD the founder of Harvest Electronics wanted to give something back to the amateur radio hobby that launched his career in electronics. The PCB was laid out by Gary Anderson ZL2VAR who is a design engineer at Harvest. Support is generally by Glenn ZL2TLD another one of the hams here at Harvest.