CDMA/GSM/3G/GPRS Modules
Manual and data sheets are available for download from our support page.
Motorola H24
The H24 features blazing fast HSUPA/HSDPA connectivity to take advantage of global 3G deployment while still leveraging backwards compatibility with GSM/GPRS and EDGE networks. The H24 is built on the same form factor as the rest of the Motorola "24" family of wireless modules, giving you flexibility with a single design solution.
The H24 features firmware upgrade over the air (FOTA) technology to ensure your M2M solution's lifespan and reliability are maximized. Future upgrades can be implemented instantly, eliminating manual field software updates time consuming maintenance activities.
Supported Bands:
UMTS/HSPA - 850/900/1700/1900/2100 MHz
GSM - 850/900/1800/1900 MHz
For more information on models and bands refer to data sheet.
H24 Data Sheet | H24 Manuals and data sheets
Motorola G24
Motorola's G24 GSM/GPRS module enables seamless connectivity for today's fastest-growing M2M applications. The G24, a single engine capable of multiple software configurations, including JAVA, is designed for flexibility to meet the specific needs of its customers around the globe.
Motorola, a wireless pioneer in both the M2M and the automotive industries, brings to market superb technologies and rugged hardware. These meet in the design of a cost-effective, easily integrated mobility engine. Motorola establishes true relationships with customers to deliver reliable, customized products and best-in-class support. Our service approach helps ensures Motorola customers have the ability to establish the foundation for increased productivity and efficiency, while conforming to the strictest industry standards.
| | | |
| --- | --- | --- |
| G24 Model Descriptions: | | Model #: |
| Quad band Non-EDGE | | F6403AAx |
| Quad band EDGE | | F6413AAx |
| Dual band Euro Non-EDGE | | F6423AAx |
| Dual band NA Non-EDGE | | F6433AAx |
| Dual band Euro EDGE | | F6463AAx |
| Dual band NA EDGE | | F6473AAx |
| Quad band Non-EDGE Java | | F6503AAx |
| Quad band EDGE Java | | F6513AAx |
| Dual band Euro Non-EDGE Java | | F6523AAx |
| Dual band NA Non-EDGE Java | | F6533AAx |
| Dual band Euro EDGE Java | | F6563AAx |
| Dual band NA EDGE Java | | F6573AAx |
| Quad band HMI Java | | F6503ABx |
G24 Data Sheet | G24 Manuals and data sheets
Motorola G24 Lite
Take advantage of M2M. We've invented the "Lite" version of the G24 for large-scale M2M systems that have simple functional needs. With a price tag that matches its name, G24 Lite offers Motorola quality and a specifically selected feature set for a whole new generation of M2M.
G24 Lite Data Sheet | G24 Lite Manuals and data sheets
Motorola GPS for G24
Motorola has gone one better for the M2M world: Now you can bind Motorola's GPS module with a same form-factor GSM module of your choice: G24-Dual,G24-Quad, G24-Edge, G24-Lite or G24-Java, to create the solution that will serve your needs. Combining the wireless brain with GPS increases your flexibility in design while significantly reducing cost in comparison to other GPS options. The Motorola GPS and GSM solution will help you create cutting edge devices for fleet management, asset tracking and other location-based wireless needs.
GPS for G24 Data Sheet | GPS for G24 Manuals and data sheets
Motorola X24
The X24 is the next generation wireless module featuring mobile WiMAX (802.16e) connectivity. The X24 is developed with high-speed data capabilities combined with mobility for a new level of M2M applications. Full WiMAX Wave 2 compliancey and duabl-band (2.5/3.5 GHz) suppor allow connectivity to the majority of WiMAX networks, while MIMO A/B and full Quality of Service (QoS) capabilites ensure maximum throughput and coverage.
Supported Bands:
Mobile WiMAX 802.16e
Dual band WiMAX 2.5 GHz

X24 Data Sheet | X24 Manuals and data sheets
Motorola W24
The W24 Wi-Fi module is designed to be the ultiamte communication solution for multiple M2M devices. With easy Wi-Fi (802.11b/g) access to internet and data connections for cost effective and secure broadband connectivity, the W24 meets the needs of M2M applications like AMR, AVL, ePOS, Home Automation, Security and Telemedicine.
W24 Data Sheet | W24 Manuals and data sheets
Motorola C24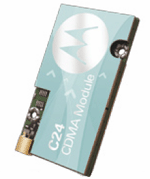 Say Hello to the C24, a CDMA solution designed using our "24" family compact form factor, continuing Motorola's tradition of expanding and innovating its M2M portfolio. The C24 enables seamless connectivity over CDMA networks for your M2M needs.
The C24 not only gives you dependable Motorola quality, you also get an innovative CDMA solution. We've designed the C24 using all we've learned to provide a fully featured wireless module that utilizes the CDMA network for expanded M2M possibilities. The C24 also gives you on-board GPS capabilities – making it the ideal choice for fleet management, asset tracking and other location based wireless applications.
Supported Bands:
CDMA Dual Band 800/1900 MHz
C24 Data Sheet | C24 Manuals and data sheets
Harvest Modem in a Box (MIB)
This is a low cost Modem in a Box (MIB) that includes a quad band Motorola G24, 12 volt power supply and serial data capability.
The MIB has been designed to meet the USA PTCRB requirements (Final PTCRB approval is some months away)
The MIB can be used as a boxed modem or as a PCB modem for embedded applications. It was primarily designed as a PCB daughter board which would meet the requirements of PTCRB. Please contact us for pricing.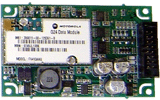 TCP and UDP packet assembly and disassembly
Extensive additional commands
Serial interface
12V operating voltage
SMA antenna connector
Out of box dimensions: 47x80x13mm(W*L*D) 45 grams (1.6 Ounces)
Boxed dimensions: 54x83x31mm(W*L*D) 75 grams (2.5 Ounces)
Download manuals and data sheets from our support page.
---
EOL Modules
Manuals and data sheets for legacy modules will be kept available on our support page.
Motorola C18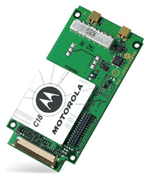 The C18 module delivers high-speed wireless data and voice communication in the CDMA 1X 800/1900 MHz, and 800 MHz AMPS range. It includes aGPS/AFLT capabilities and complies with the FCC E911 Phase ll Location Mandate.
The c18 module has several optional interface connectors which provides greater flexibility in meeting customer needs.

Note: The C18 is now obsolete and has been replaced by the C24.
Motorola G20
The G20 is Motorola's newest family of embedded cellular products. Motorola continues its tradition of excellence by introducing this new cellular engine family for GSM/GPRS communications.
The new module is similar to a condensed cellular phone core, and can be integrated in any system or product that needs to transfer voice or data information. Thus, it significantly enhances the system's capabilities, transforming it from a standalone, isolated product to a powerful component connected to communication nets.
The new G20 is extremely small in dimensions, yet packed with a host of highly advanced features designed to facilitate fast and easy integration with OEM user products.

Note: The G20 is now obsolete and has been replaced by the G24/H24.
Motorola G200 Modem
The Motorola G200 self-contained, wireless modem enables quick and easy seamless connectivity for today's fastest-growing M2M applications. Fully type-approved, the G200's design allows applications to be easily connected and configured. The G200 also includes proven industry-standard connectors and industrial grade circuitry, as well as remote access, an embedded firewall, TCP/IP stack and over-the-air configuration, offering one of the most affordable, secure and versatile modems on the market today.
The G200's standard and specialized AT commands simplify network connection and equipment configuration,enabling customers to bring some of the most advanced M2M applications to life faster than traditional solutions. This full-function, class 8 GPRS capacity, plug-and-play wireless solution minimizes the customer's need for additional components, increasing the speed to market, which can be the difference between success and failure in the dynamic M2M world.
Key features:
TCP and UDP packet assembly and disassembly.
Extensive additional commands.
RS232 interface.
12–30V operating voltage.
SMA antenna connector.
Dimensions: 94x60x25mm.
Wavecom Fastrack Supreme 10
The Wavecom Fastrack Supreme 10 is a versatile GSM/GPRS Plug & Play Wireless CPU that will carry your applications well into the future. It has been designed to accommodate any additional features you can imagine, thanks to a revolutionary, open standard Internal Expansion Socket which you can populate with an expansion card from Wavecom – or one of your own.
Key features: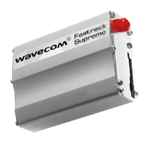 Core processor: ARM 946, 32 bit, 104MHz running Open AT RTOS as standard
Memory: Internal 32 Mb Flash and 8 Mb PSRAM
Digital Control: 2 GPIOs (many more thanks to IESM)
Digital Comms: 1 UART (many more thanks to IESM)
Cellular Data: GSM standard, SMS, CSD, GPRS cl10 , EDGE cl10
(for FAstrack Supreme20 only)
Cellular Voice: Quad codec (FR/HR/EFR/AMR), VDA2A
RF and IO connectivity: 1 SMA connector for EDGE RF, SUB D connector for power supply, reset, boot
Dimensions: L73 x W54.5 x H 25.5mm