Serial Port Extender
As of November 2015 the SPE is now EOL. Harvest will still continue to support the SPE but are no longer selling new units.
Overview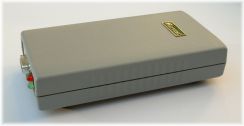 A Harvest Serial Port Extender (SPE) is a GSM GPRS telemetry modem used at a remote location to connect between a remote device (with a serial port) and a central computer.
Remote equipment can be controlled from anywhere in the world, as if it were connected directly to the host-end computer. Harvest can customise the SPE's hardware and software to suit your application.
The SPE is far more than just a GPRS telemetry modem with an IP stack built in. It has many functions which ensure that the remote device is always able to communicate with the host system, even after power failures, network outages and indeterminate network states.
GPRS is a great tool for telemetry, but it takes a lot of work to develop a robust system. It took three months to build a prototype SPE and 18 months to get it to the point of being a fully robust, reliable remote terminal. If you don't want to be visiting remote sites just to reset your GPRS modems—build in reliability with the Harvest Serial Port Extender.
These units are used in large numbers by Horizons Regional Council, NIWA, New Zealand Met Service and Environment Southland.
Go to our Getting Started guide to view details on how to set up an SPE for the first time.
Typical Applications
An SPE can be used for telemetry, security systems, data loggers, hydrology equipment, active signs, and any remote equipment with a serial data port. Some of our special solutions and applications are:
Solar-Powered. We sell a weather-proof, solar powered SPE for use at remote sites. It can be used for weather stations, frost alarms, and any remote logging application.
Weather Station. We sell complete remote Weather Stations which send their data to our web site from anywhere in the world. The weather stations can be solar or battery powered, and they can monitor air and soil temperatures, rainfall, wind speed and direction, humidity, battery voltage, water flow, soil moisture, and more.
Frost Alarm. The weather stations can be configured as Frost Alarms for vineyard and orchard owners. Owners can set up alarms for almost any input, and have alarms sent as text messages, voice messages, or emails.
Industrial. A rugged IP65 version of the SPE is available for use in industrial environments.
Loggers. Special versions are available to communicate with Campbell Scientific data loggers and Unidata (Star) loggers. These units communicate while preserving the battery-saving features built into the loggers.
Rail Crossing Monitor. We make an SPE-based Rail Crossing Monitor that keeps track of various functions at rail level crossings.
Vending Machines. Remote monitoring of vending machines provides up-to-date sales and vending information. Contact us for more information.
Technical Specs
Below are some basic specifications for our SPE. See our Technical Information page for more details.
Motorola g24 GPRS modules are mounted on a carrier board together with a UDP/IP packet assembler and disassembler (PAD). The g24 is a dual-band module, and versions are available for Europe and Asia-Pacific as well as for North America.
UDP protocol is used for minimum latency and data overhead.
Automatically ping at a user-defined interval to ensure network connection.
Lots of I/O. Four counter or digital inputs, eight analog or digital inputs, two Dallas one-wire inputs, and three voltage or contact closure outputs.
Baud rate configurable to match speed of remote device (DTE). An RS-232 DE9 connector connects the SPE to the device.
Versatile configuration. Easily change IP settings, PAD forwarding character and timeout, automatic connection settings, event-triggered calling and logging, etc. All settings are non-volatile.
Remote code download. Ability to download new software to the SPE via its GPRS link.
Power supply can be from 5–30V DC unregulated (or we can ship with a 110/230V AC supply).
Dimensions are 161mm x 81mm x 37mm for a standard SPE. Optionally supplied with stubby antenna.
Typical Host-End Connection Methods
Internet Hosting. This is the lowest cost and most internationally portable solution. Remote units will have dynamic IP addresses, so an auxiliary identification method is required (such as the Harvest Serial Number). This approach requires that the field units begin communication with the host rather than waiting for a poll.
VPN via frame relay or DSL. This is a more secure option. With a VPN (Virtual Private Network), the carrier provides fixed, private IP addresses for the field units. Data is delivered via the VPN over a frame relay or DSL circuit. With fixed IP addresses polling is made posible.
Host-End Software
Host-end software can talk with the SPE via the familiar Windows Socket API (or any UDP/IP interface). This has the advantages of using existing driver software and the abiliby to support a large and dynamic number of simultaneous sessions. Our UDPTerm test software (see Getting Started) uses this method.
As an alternative a virtual COM port driver can be used, but this will impose a fixed limit on the number of simultaneous sessions.
Industrial Telemetry Unit (ITU)
We now have a separate page for our Industrial Telemetry Unit.