Harvest Outdoor Particulate Air Quality Monitor
The Harvest AQM air quality sensor uses the Sensirion SPS30 particulate monitor internally with a custom designed circuit to take readings and send them out the SDI-12 interface. The sensor and circuit board are protected in an enclosure that we have designed to meet Sensirion's requirements for airflow in order to give accurate outdoor readings.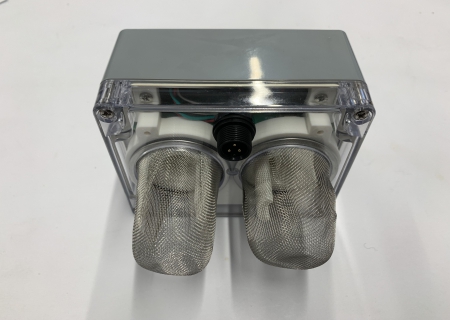 In Jan 2020 the SPS30 became the first mass-market PM sensor awarded with MCERTS certification.
The certification confirms that the SPS30 can be easily integrated into applications that comply with the European Air Quality Standard DIN EN 15267.
The SPS30 is self cleaning and has an expected life of ten years.
Measurement
Particulate Matter PM1.0, PM2.5, PM4 and PM10.0 (μg/m³, counts/cm³)
Performance
Accurate to ±10 μg/m³ in the range of 0 to 100 μg/m³
Accurate to ±10% in the range of 100 to 1000 μg/m³
The sensor with our microprocessor interface draws 25mA at 12V in continuous mode but we have included an optional power saving mode which turns on the sensor for one minute every ten minutes which reduces the average power use to about 3mA. This sensor has been installed at two government air quality sites with Teledyne T640X particulate sensors with very good correlation. The T640X is a top tier sensor at an appropriate price point. The Harvest particulate monitor is about 30 times cheaper than the T640X. Several highly respected engineering consultancy companies have been using the Harvest AQM with good results at sites that do not required EPA certified sensors. The Harvest AQM can be supplied as a sensor only to operate with any SDI-12 compliant logger. Harvest can also offer the AQM fitted to their own cellular (or optional Iridium satellite) logger with optional gas sensors which can be rapidly deployed anywhere in the world with data displayed on the Harvest website with full API access for third party access to the data.  See Harvest online system.
---