Iridium Satellite Weather Station
The Harvest solar powered weather stations and industrial monitors can be fitted with an Iridium satellite modem. These are ideal for use where there is no cell phone coverage. They will work at any location on earth that can see the sky.
The standard weather station configuration reports every hour with ten minute average wind speed and direction as well as maximum ten second gust, temperature, rainfall, barometric pressure and humidity.
Data is delivered by the Iridium Short Burst Data Service to the Harvest web site where graphs are plotted for easy internet access. The data can also be sent automatically anywhere in the world by XML or CSV.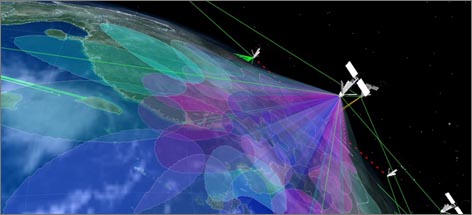 These units have a low operating cost which includes all Iridium Satellite charges. The internal logger has spare inputs which could be used for additional sensing eg river level and/or flood alarm (which can send email and text messages via the Harvest data management system).
The internal logger will also support remote wireless temperature sensors for use as a frost alarm where there is no cell phone coverage. The system can be programmed to report temperatures every five or fifteen minutes during a frost.
The satellite weather station is suitable for use a rural fire weather station where the forest is often far from cell phone coverage. In this application you could add the optional solar radiation sensor for the calculation of evapotranspiration (ET) and/or a soil moisture probe. The weather stations are very portable so they can be rapidly deployed in temporary locations eg during a forest fire or while road construction is taking place.
The weather station is compatible with professional sensors such as Vaisala mechanical or ultrasonic wind sensors or Hydrological Services rain gauge or a Vaisala all in one WXT520. This system is ideal for NGOs and mining companies who need good weather data for flights into remote areas. Installation is very simple and takes less than 30 minutes.
All data (live and historical) is visible on the Harvest web site and also via cell phones using WAP or a smartphone friendly website. You can see the live data from unit in the DR Congo here.