ITU G2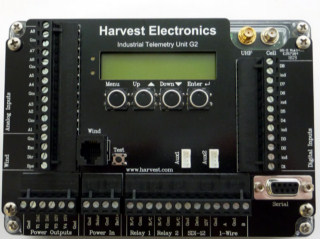 The Harvest ITU_G2 is a complete, ground up, redesign of our ITU platform. Drawing on our years of experience with our earlier designs our engineers have been able to produce a new product which enhances existing features, adds some desired new features, and reduces power consumption.
Features
Eight analog inputs with software selectable ranges of 2V, 10V, 40V, or 4-20mA
Eight digital inputs with counting capability; four with programmable edge filtering
SDI-12 port
Separate port for wind speed and direction sensors
Four software configurable excitation outputs; two with programmable voltage; one with boosted voltage
Two Dallas 1-wire bus inputs
Two programmable relay outputs
Solar battery charger for 12V VRLA batteries
LCD display
Extensive AT command set for configuration and control
SD card for huge logging capacity
The Harvest ITU_G2 is configured using a set of AT style commands that form an extension to the standard GPRS modem command set. The ITU_G2 Command Reference documents these extended commands. For customers using our data collection service, we will take care of configuration for you, or alternatively, if you want to collect your data yourself, we can advise on suitable configuration options to achieve your objectives.
The Physical Characteristics page decribes the physical dimensions of the ITU_G2, its connector types and pinouts, and the electrical characteristics.